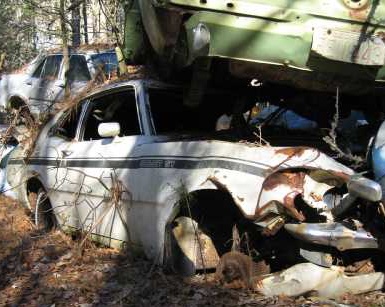 Here lies a 1971-1972 Mercury Comet GT.  Another great crime scene photo from www.classiccarsrotting.com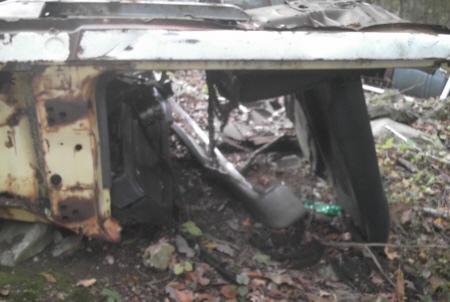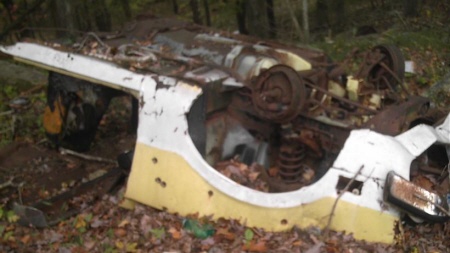 This dismembered 1973 Maverick Grabber was submitted by Isaac Cole.  Isaac states that, "The car is located in Alpha, KY up behind one of my friend's house on the mountain. We had played around the car for years and I didn't even remember it.  It's probably scattered over an area of 50' x 50'.  The car used to belong to his uncle.  He wrecked it one night and they had to cut him out of the car.  He was fine after the wreck, he just wasn't able to get out of the car."  This 1973 Grabber was Medium Bright yellow with a white lower accent, 302 V-8 powered, Automatic transmission with factory floor shift,  and black vinyl high back bucket seat interior.  Built in Kansas City and shipped to the Cincinnati District Sales Office, this had to be one sharp car!!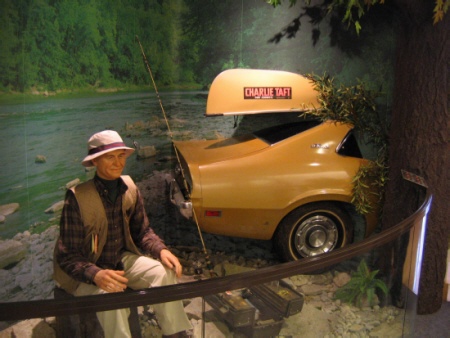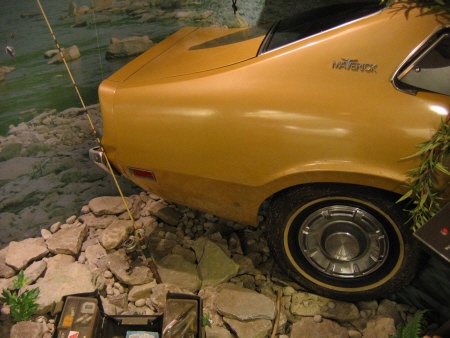 This chopped up corpse of a 1973 Ford Maverick is located in the Taft Education Center, right next to the William Howard Taft birthplace, in Cincinnati, Ohio.  It had belonged to President William Howard Taft's youngest son, Charles P. Taft II.  Seems he drove this gold Ford Maverick with a canoe on the roof because, as Charlie said: "I love to fish so I keep this canoe on the top of the car year-around. Great place for campaign stickers, and it makes it easy to locate my car in those parking lots at the malls."  This display, with a life-size animatronics figure of Charlie next to his Maverick on the riverside fishing, shows that, unfortunately, they cut the Maverick up for the display, only showing the right rear quarter and taillight panel.

Find out more at:  http://www.nps.gov/wiho/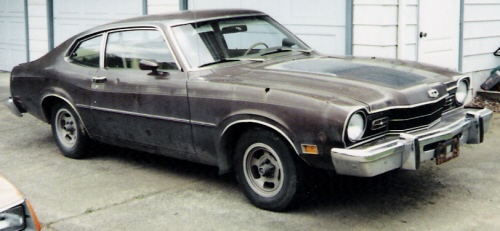 Here lies a 1974 Mercury Comet GT.  Kind of hard to tell with all the green moss growing all over the outside of it.  Here are the facts:  302 V-8, Automatic, manual disc brakes, power steering, rear defrost,  and 2.79 rear axle.  Born in Kansas City in February of 1974 and originally shipped to Canada, this GT featured Ginger Glow paint (which is kind of a dark brown) with gold side stripes and a black hood stripe.  The interior came in tan super soft vinyl high back bucket seats.  It also featured factory aluminum wheels.  The photographer Rob told me, "The left side frame rails and torque box are completely rotted out along with both quarter panels at lower rear, this is why I made the decision to part it out rather than try to salvage it."  It now rest in pieces in Chilliwack, B.C., Canada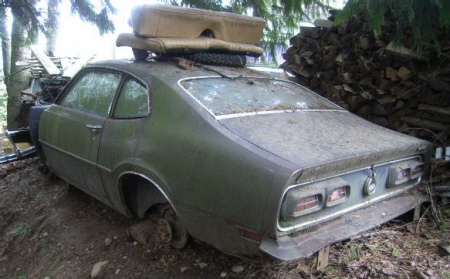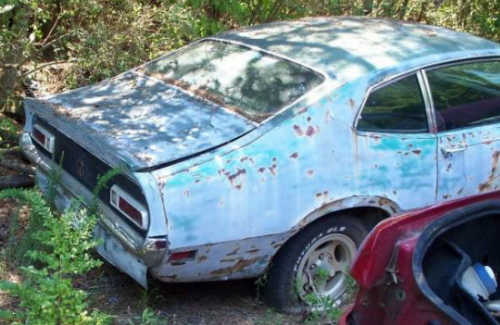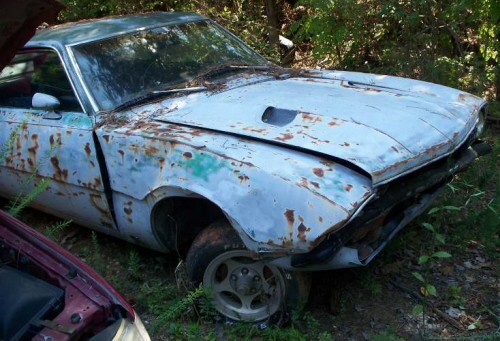 Here we have a 1971 Ford Maverick Grabber.  Built June 1971 in Kansas City, this Grabber was originally Grabber Green metallic with a black all vinyl bench seat interior.  This Grabber was spotted in a junkyard in Stockbridge, Georgia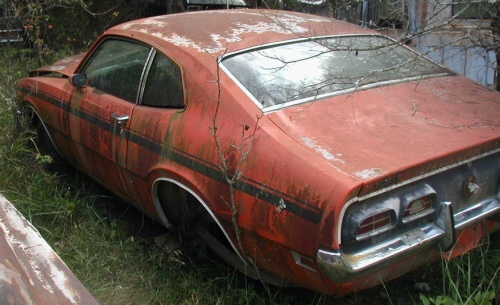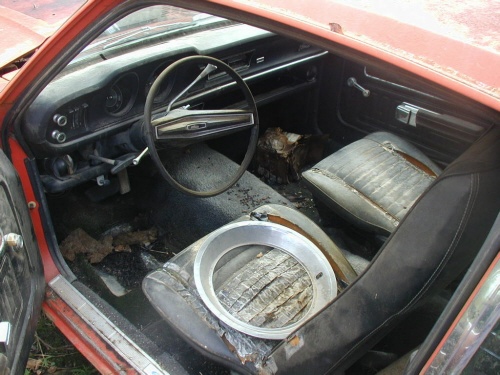 From Lincoln, Arkansas we find a 1972 Mercury Comet GT owned by Eddie Villines.  The only things we really know about this car is that it has bucket seats and factory air conditioning.  What a great color combination!!